Gazco Assure Fall Arrest Harness
The ultimate multi purpose full body safety harness. Dorsal high strength forged D-ring,with back pad,5 adjustable points(chest,shoulder,thigh),special design&high resistant polyethylene back plate,plastic clip.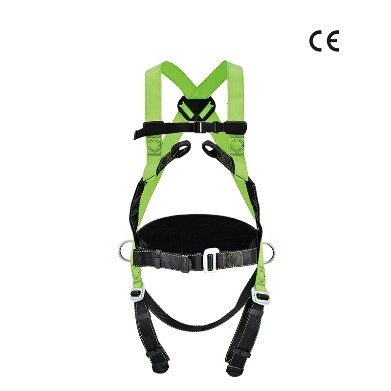 Gazco Lite Fall Arrest Harness
4 point Safety Harness
45mm Polyester Webbing
Large D-Ring on rear and chest and 2 D-rings on hips.
Metallic fittings: Alloy steel, zinc plated.
Strength>22KN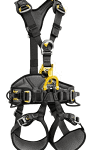 PETZL Astra Bod Fast Harness
With an integrated croll L ventral rope clamp, this harness is designed for greater efficiency and comfort during rope ascents. The openable ventral attachment point allows optimal integration of equipment (rope clamp, lanyard, seat…). Wide, semi-rigid waistbelt and leg loops give excellent support.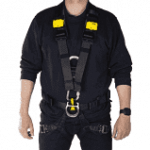 PETZL Avao Bod Fast Harness
This harness is designed for greater comfort in a variety of situations. It's wide, semi-rigid waist belt and leg loops give excellent support. Waist belt and shoulder straps are equipped with self-locking buckles that ensure quick and easy adjustment.
Mach 1
Constructed using 45mm Polyester webbing (Flame retardant)
D-Ring rear and front attachment points for
D-Ring sit position attachment point (for Rope Access) – Large aluminium D-Ring
Adjustable ABS buckling system on waist, legs and chest (Self-Locking)
Adjustable sliding bar buckle on the waist and back to adjust chest section of the harness
Sizes: (S-L; XL-XXL)
Tested according to SANS 50813, 50361 & 50358
H1 Full Body Harness
Constructed using 45mm Flame Retardent Polyester webbing
D-Ring rear & front attachment points for Fall Arrest
Adjustable ABS self-locking  buckling system on waist, legs and chest
Scaffold hook attachment loop on Shoulder strap
Sizes: :S-L; XL-XXL
Tested according to SANS 503